The History of POC
Late 1980's
First Canadian organizers join NAPO
1998
Spring:
Canadian organizers begin to discuss whether to become a NAPO chapter or form their own association. Started meeting in a Yahoo online group.
1999
May 6:
Some Toronto organizers started meeting monthly in person, at Harold Taylor's boardroom. A task force booked speakers, managed the budget and kept track of membership.
September 6:
The group began calling themselves Professional Organizers in Canada. Founding members: Donna Anderson (now Campbell); Ann Bellefeuille; Angela Boucher; Estelle Gee; Laurene Livesey Park; Kate Menard; Margaret Miller; Debra Milne; Harold Taylor.
November 30:
First outside speaker at a POC meeting.
First membership fees charged.
First award, "Award of Merit", given to Liz Manore, chair of task force.
Membership at year-end: 14
2000
September:
First board of directors: Margaret Miller, President; Debra Milne, Ann Bellefeuille; Donna Anderson (Campbell); Laurene Livesey Park; Angela Boucher; Harold Taylor; Estelle Gee; Kate Menard; Karen Sencich.
First members: Elaine Jermy; Roxanne Edwards; Janet Ross.
First newsletter published (written & produced by Karen Sencich).
Membership at year-end: 35, based mainly in Central Ontario.
2001
February 27:
Professional Organizers in Canada incorporated as a not-for-profit association. Code of Ethics written.
March 31:
Website launched.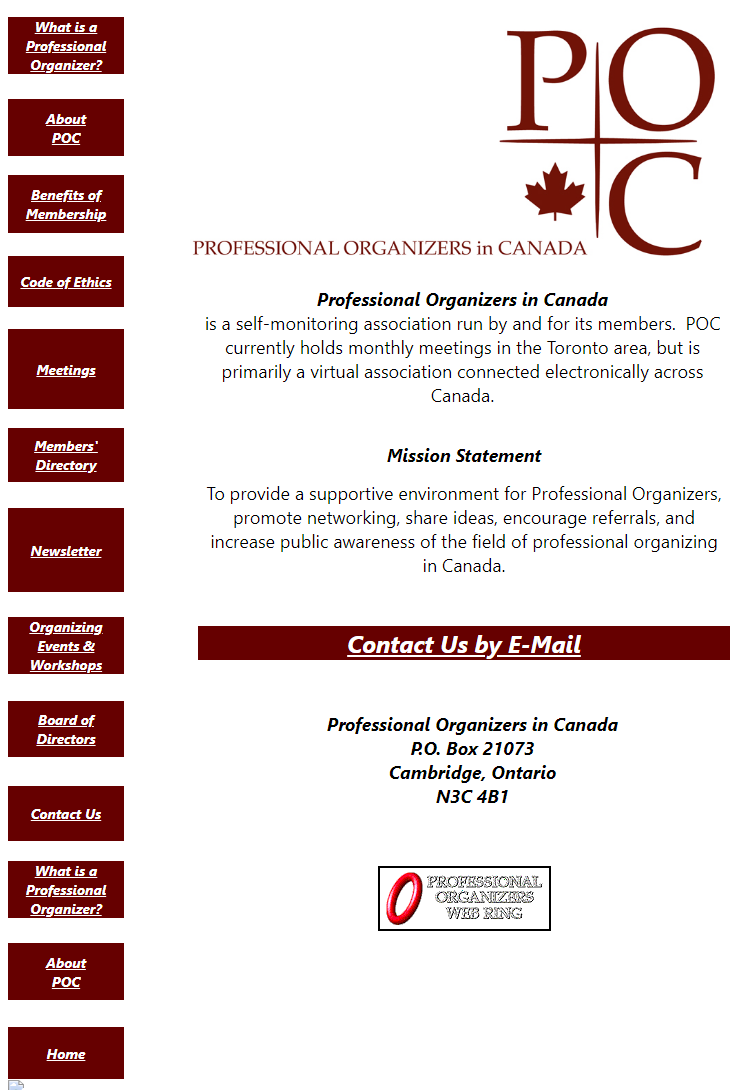 Summer:
Top 100 Organizing Tips booklet produced.
First national membership survey.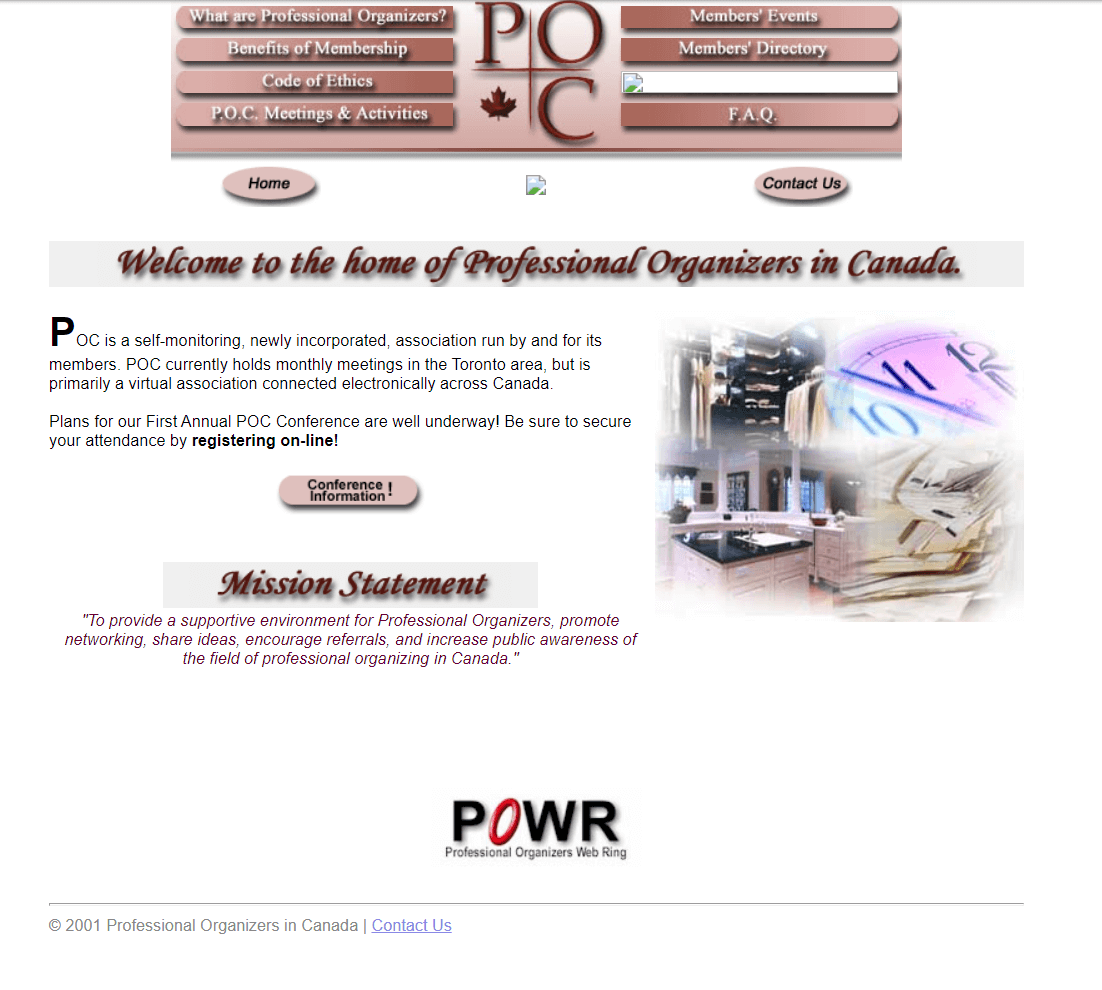 August 25:
First annual conference held in Toronto. Harold Taylor presented with inaugural recognition award, to become known as the "Harold Taylor Award".
Membership: 68
Dues: $150/year
2002
April:
POC members featured in Homemakers magazine.
May:
First National Organizing Week (first week of May).
October:
NSGCD (later ICD) members attend conference.
New chapters: Ottawa (Mar), Toronto (May), Montreal (Nov), Western Canada (Dec)
Membership: >100
2003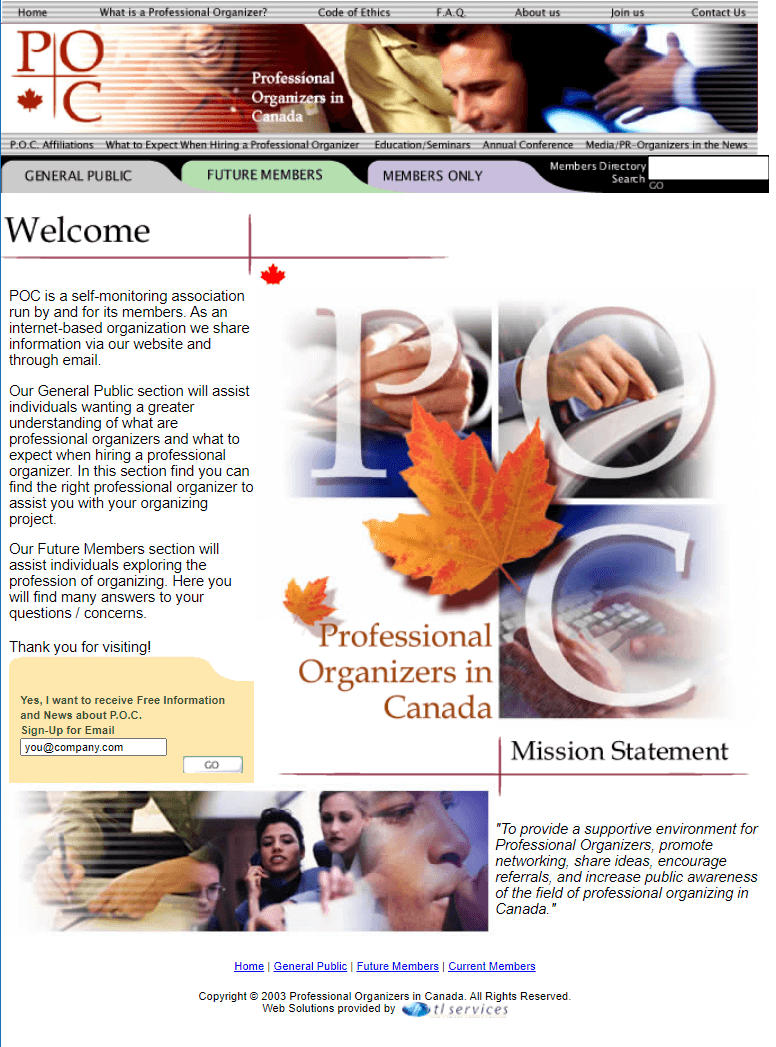 June:
Affiliation agreement with NSGCD (ICD).
POC online store offers lapel pins, canvas bags, license plate frames, and tip booklets.
Chapter guidelines established.
August:
First teleclass offered: Ask the Organizer.
Fall:
Discussion forum launched on website.
New chapters: BC (Feb), Southwestern Ontario (Nov)
2004
First international members.
February:
First associate members: Find Every File, Space Age Shelving, 1-800-Got-Junk.
June:
Education committee formed.
October:
First director of education named (Morva Bowman).
November:
First teleclasses offered.
New chapters: Atlantic Canada (Apr), Huron Shores (Nov), London & Area (Nov)
Membership: >200 
2005
October:
New branding and new logo; signed affiliate agreement with NAPO.
Silver Leaf program launched.
New chapters: Durham (Aug), Halton-Peel (Oct), Calgary (Oct), Edmonton (Oct), Cyber
Membership: >300
2006
March:
New website launched, includes French language content.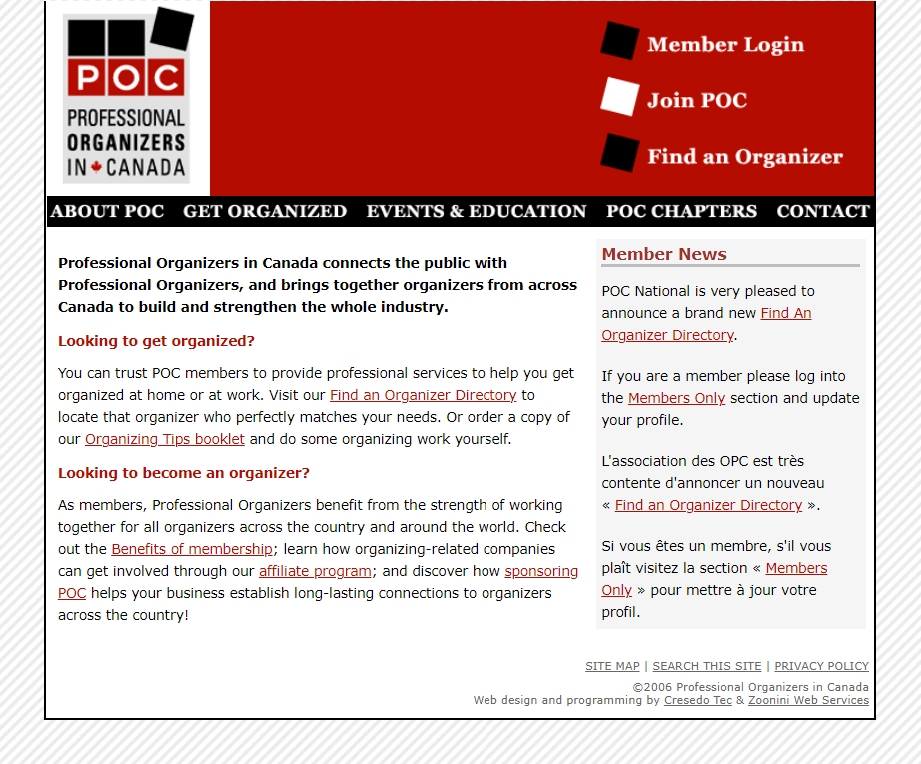 New chapter: Vancouver Island (Oct)
New chapter-in-formation: New Brunswick (Jul), with Atlantic Chapter becoming Halifax Chapter.
Reached 500 members; education credit program launched.
2007
November 3:
Founding member of IFPOA (International Federation of Professional Organizing Associations).
November:
First conference in the west, in Vancouver.
New chapter: North GTA (Feb)
Education credit program named TPO program.
2008
Chapter Handbook created.
May:
Engaged AssociationsFirst.
2010
Conference held in Montreal – first eastern conference held outside Toronto.
2011
Ambassador Award launched.
Continuing Education Task Force report submitted to board, recommending ongoing professional education requirements for POC members.
2012
POC purchased ProfessionalOrganizers.com and its educational materials, which became the "Launch and Grow" program.
First Gold Leaf members recognized.
2014
POC POST launched with over 3,000 subscribers.
POC joins Facebook.
2015
Changed fiscal year to July – June.
Revised Ethics policies and procedures.
Created standing Ethics Committee.
2016
March 31:
New website launched.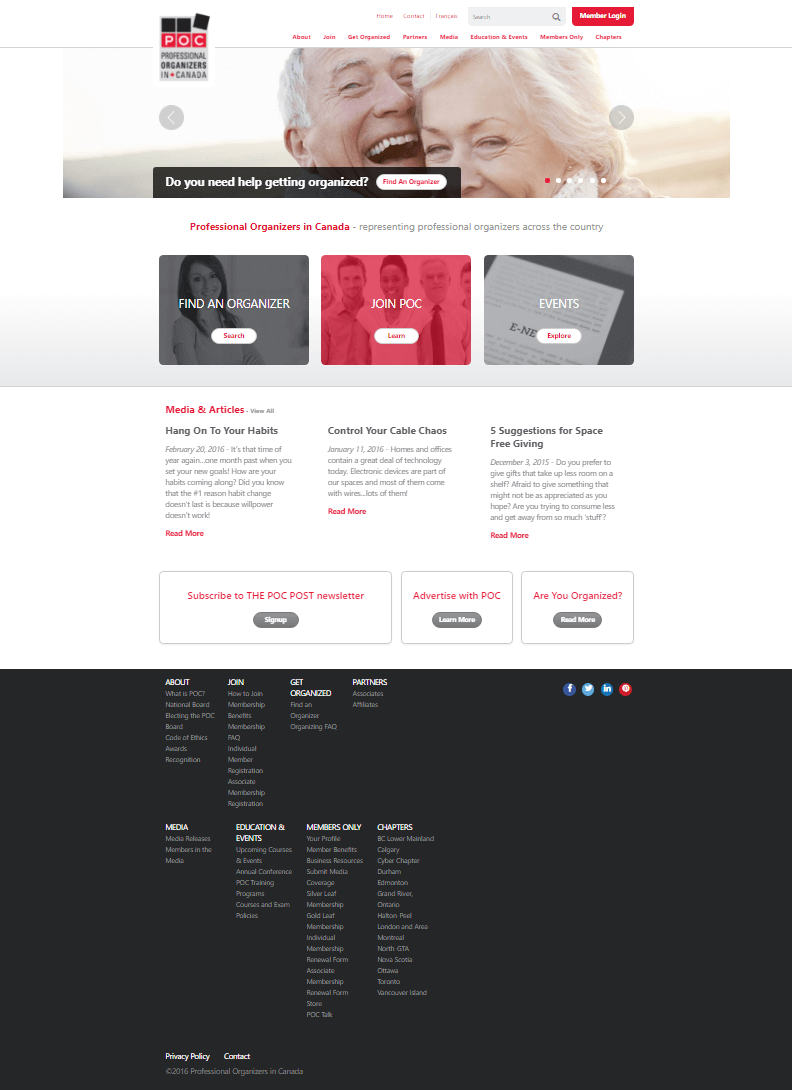 Engaged Goodfellows social media marketing company (now Sociation Marketing).
Joined Pinterest.
Signed affiliate agreements with NASMM and APDO.
Renewed affiliation agreement with NAPO.
2017
Launched POC Influencer program.
Changed to anniversary renewal.
Revised Bylaws.
2018
Revised Policies and Procedures manual.
November 1:
POC & ICD sign affiliation agreement.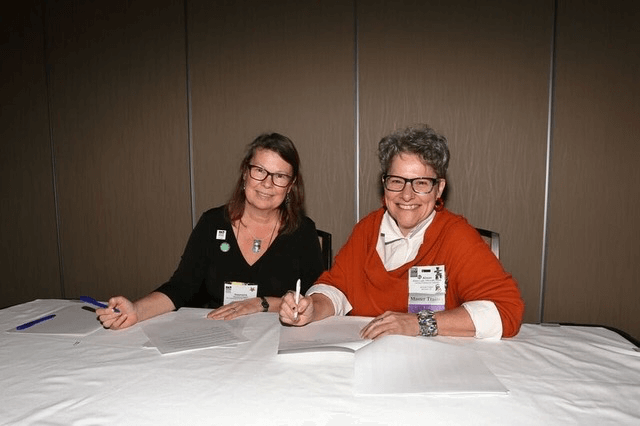 2019
New member category introduced for emeritus members.
2020
Bilingual logo introduced.
First virtual conference.
Chapter Handbook revised.
Nova Scotia Chapter changed its name back to Atlantic Chapter.
2021
April 1:
Updated website launched!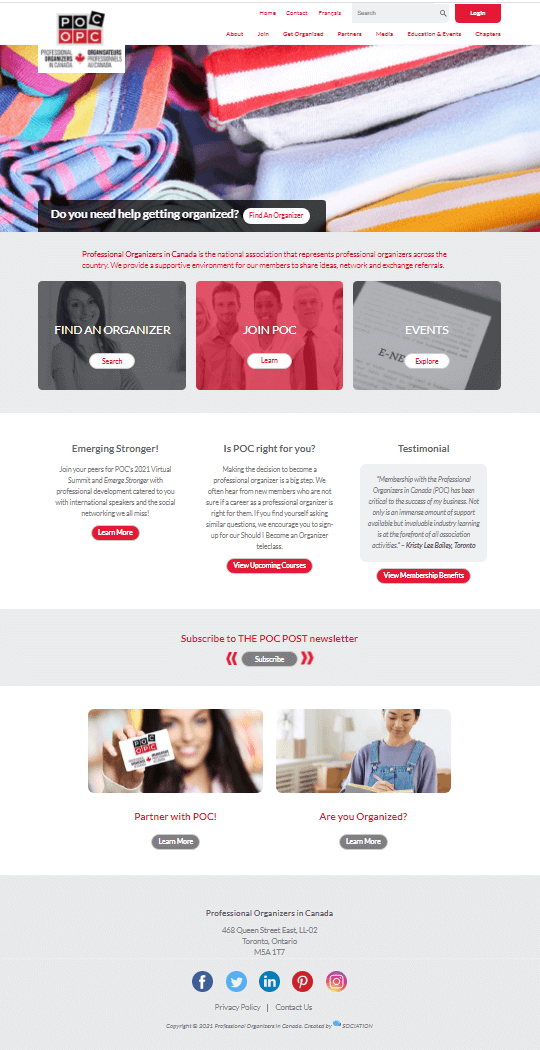 POC Past Presidents
Margaret Miller
Laurene Livesey Park
Alex Fayle
Jane Woolsey
Linda Chu
Kristie Demke (Nov 2009 – Nov 2011)
Jacki Hollywood Brown
Alexandra Ross (Oct 2013 – May 2014)
Stephanie Deakin (May 2014 – Nov 2017 & Feb 2018 – Oct 2018)
Susan Toth (Nov 2017 – Feb 2018)
Dennise Conforti (Oct 2018 – Nov 2020)
Nathalie Bureau (Nov 2020 – Nov 2022)
Agenda for the first one-day conference, August 24, 2001
| | |
| --- | --- |
| 8:15am | Breakfast |
| 8:30am – 9:30am | AGM |
| 10:00am | Welcome Address |
| 10:30am | Expo |
| 11:00am | 1st Session |
| 12:00 Noon | Lunch |
| 1:30pm | 2nd Session |
| 2:45pm – 3:45pm | Talk |
| 4:00pm – 5:00pm | Closing |
| 5:00pm – 6:00pm | Closing Reception |