Vancouver Island
Who We Are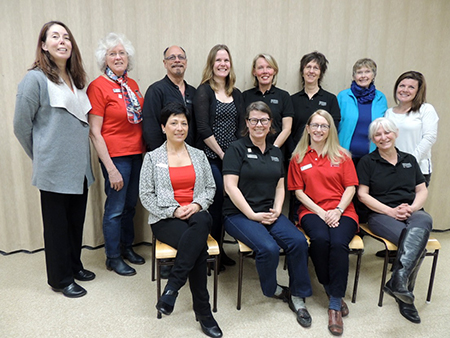 Our chapter includes all of Vancouver Island and the Gulf Islands and currently has members from Victoria to Courtenay. Formed in 2006, we are a small but growing group, energetically supporting each other and our communities. We invite those interested in learning more about the professional organizer field and guests in related professions to join us at our meetings.
Meetings
We offer meetings and social gatherings in Victoria to meet the needs of our membership. Upcoming meetings and event details are listed below.
Visitors are always welcome to join us at either meeting location. Led by in-house experts, our meetings have discussions about topics such as personal safety, contracts, interviews, organizing tools and marketing strategies. We also arrange for speakers with pertinent information regarding the organizing industry such as up-to-date recycling practices and resources for selling clients' belongings. Time allotted in the agenda for Q&A, information-sharing and informal networking. Our goal is to provide educational opportunities that are relevant and interesting. We are always looking for new and innovative ideas to engage our membership. If there is a topic you would like covered or if you would like to present to our participants, please contact the chapter chair at the email address below.
Overnight billeting is available for out-of-town colleagues and guests who wish to attend the evening meetings. Please contact the chapter chair to make arrangements.
Our casual and enthusiastic meetings are held on the third Tuesday of every other month from 6:30-8:30pm at the Sands Reception Centre at 317 Goldstream Ave in Victoria. In January and August we enjoy social get-togethers in lieu of meetings. On occasion, we arrange excursions (ie Hartland Landfill) to learn more about a specific topic relevant to professional organizing.
Please RSVP to vancouverisland@organizersincanada.com. We will be sure to update you in the event of any changes.
Cost
A $10 meeting fee will be charged to guests.
Member's fees are included in the POC yearly fees.
Chapter Contact
Chapter Executive
Chapter Chair: Sarah Tudway-Cains
Vice-Chair: Saija Tissari
Treasurer: Stephanie Deakin
Membership Coordinator: Desiree White-Raagner
Secretary: Michelle Cooper
Librarian: Juanita Walton
Past Chair: Maggie Megenbir
Chapter Events
Please be advised that, until further notice, POC has cancelled ALL face-to-face chapter meetings, elections, events and/or gatherings of POC members. Any chapter that wishes to meet virtually for continuation of chapter business, including elections, workshops or just to network, are welcome to use the POC Zoom account at no charge. To book a Zoom meeting, or to see what dates and times are available for your meeting, please visit the Members Only landing page.
TPO Exams
Considering the ongoing developments resulting from the coronavirus, our Trained Professional Organizer exam set to take place at the chapter level must be canceled.
We know how hard many of you have been working to successfully complete the necessary courses to be eligible to take the exam and how disappointed you may feel. Rest assured that our objective is to safeguard the health of our organizing community and we will reschedule the exam when possible.
Wishing you all peace and good health during these trying times!