Montreal
Who We Are
The Montreal Chapter was founded in the Fall of 2001 to enable Professional Organizers from the Montreal area to get together to support and encourage one another. Our goal is to provide a bilingual, supportive environment for Professional Organizers, promote networking, share ideas, encourage referrals and increase awareness of the field of professional organizing in Quebec. Currently we support a growing network of over 40 members in Quebec. Our chapter membership includes Silver Leaf Members and members of the POC National Board of Directors, as well as many enthusiastic, creative and experienced members who contribute positively to the Montreal Chapter and to the community.
The Montreal Chapter encompasses the greater Montreal area, including the islands and the surrounding area, where the majority of our membership live and work. Our Chapter is proud to support both Francophone and Anglophone members throughout the Province of Quebec.
Finding a Professional Organizer in Montreal
Our Chapter membership includes Professional Organizers who assist clients with the de-cluttering and reorganization of all areas of their home from basement to attic – including the home office. From small or home-based businesses to companies and corporations, we have trained Professional Organizers who can assist businesses with their organizing needs. We also provide support and organizing services to people who are moving or downsizing into a smaller home or a senior/retirement residence. We work with people who face special challenges including chronic disorganization, ADD/ADHD and hoarding. Find a Professional Organizer near you.
Join Us!
Are you interested in becoming a Professional Organizer?
Are you looking for an opportunity to meet and network with other Professional Organizers?
Are you seeking training or professional development?
Do you want to learn about new organizing systems, tools and gadgets?
Are you seeking environmentally friendly resources for your clients?
The best way to get the answers and resources you seek is to attend our next meeting!
We are always looking for new members! Learn more about POC membership or contact the Montreal Chapter.
Chapter Meetings
We meet regularly in order to discuss chapter business, initiatives and policies of the POC, industry updates, upcoming events, resources and products. Chapter Meetings often feature guest speakers and discussions of various topics of interest to both new and experienced Professional Organizers. Each Chapter Meeting provides our members with the opportunity to network and to share experience and information relevant to our profession. Some of our Chapter Meetings are conducted exclusively in French. Members and guests at every meeting are welcome to participate in either French or English, as they prefer. If you are fluent in only one language, several of our members are bilingual and can translate for you!
Meeting Fees
Guests are always welcome! There is a $20.00 meeting fee for guests, there is no charge for POC members. Planning to attend the next Chapter Meeting? Send your R.S.V.P. to: montreal@organizersincanada.com.
Chapter Contact
For inquiries and information about attending our Chapter Meeting as a presenter or a guest, or for information about becoming a member of the Montreal Chapter, please contact montreal@organizersincanada.com.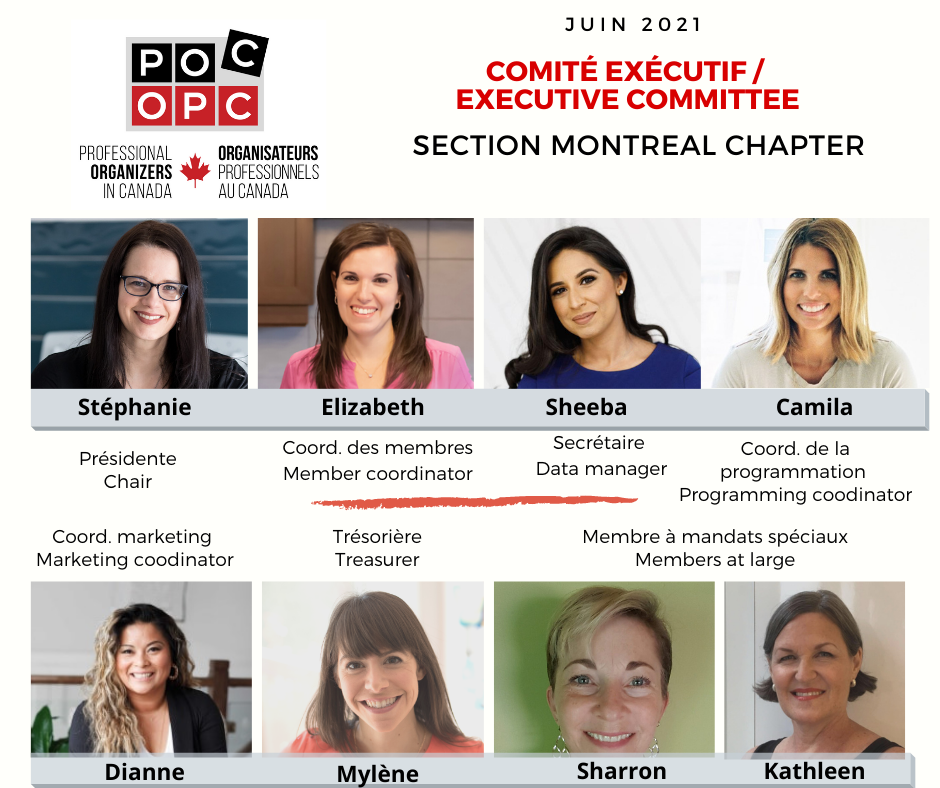 Chapter Executive
Chair: Stéphanie Galipeau
Treasurer: Mylène Houle Morency
Secretary/Data & Information Manager: Sheeba Uzzaman
Membership/Volunteer Coordinator: Elizabeth Alescio
Program Coordinator: Camilla Marquez
Marketing Coordinator: Dianne Jimenez
Member at Large: Sharron Leggett
Member at Large: Kathleen Murphy
Chapter Events
Please be advised that, until further notice, POC has cancelled ALL face-to-face chapter meetings, elections, events and/or gatherings of POC members. Any chapter that wishes to meet virtually for continuation of chapter business, including elections, workshops or just to network, are welcome to use the POC Zoom account at no charge. To book a Zoom meeting, or to see what dates and times are available for your meeting, please visit the Members Only landing page.
TPO Exams
Considering the ongoing developments resulting from the coronavirus, our Trained Professional Organizer exam set to take place at the chapter level must be canceled.
We know how hard many of you have been working to successfully complete the necessary courses to be eligible to take the exam and how disappointed you may feel. Rest assured that our objective is to safeguard the health of our organizing community and we will reschedule the exam when possible.
Wishing you all peace and good health during these trying times!
Eco Friendly Chapter
The Montreal chapter has chosen to go towards a zero waste initiative. This means that there will be no more plastic water bottles, paper plates, cups as well as plastic utensils. We suggest that if you'd like to enjoy coffee or fruits, please bring a cup, a spoon and/or a reusable water bottle. We hope you will enjoy this new decision and that it will not cause any inconvenience.