Annual Conference / Summit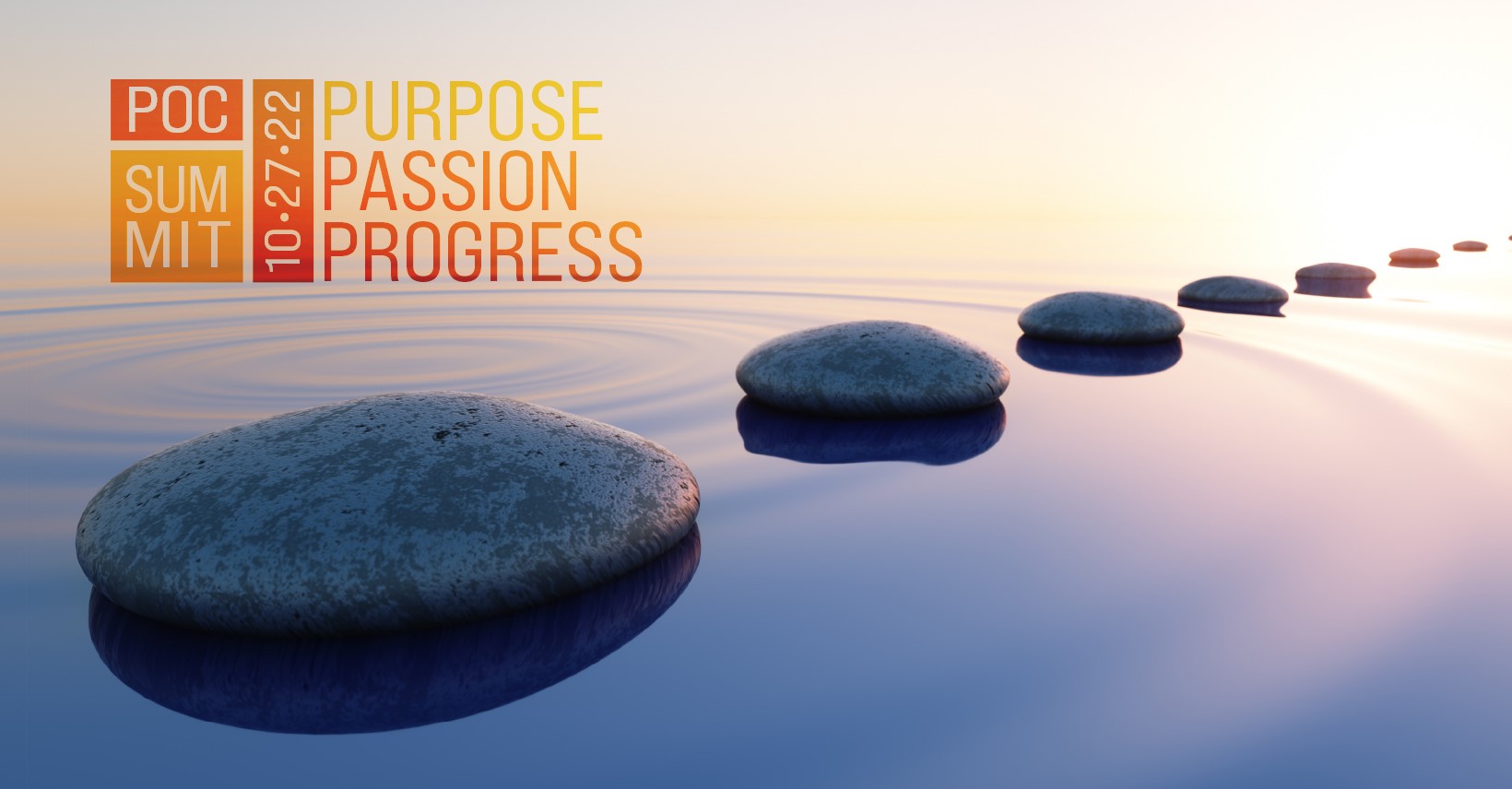 Save the Date for the POC 2022 Virtual Summit
"Passion • Purpose • Progress"!
Thursday, October 27, 2022
10:00 am – 6:00 pm Eastern Time
#POCSummit
2022 has seen a lightening of pandemic restrictions however, the nation continues to adjust to the uncertainty of traveling and gathering. Many of us have a renewed Purpose; we have learned the value of virtual organizing and coaching and, as result, we have ignited our Passion with some even busier than before … and that's Progress! In recognition of these efforts, our theme this year is "Purpose | Passion | Progress".
The National Conference Committee, along with the management team at Associations First, continue to learn from each Summit. As a result, we've built another professional and engaging event that is chock full of learning, networking, and fun!
The day will begin with an "on demand" yoga session which you may enjoy at your leisure, at a time most suitable for you (and your time zone!).
With another strong response to our Call for Presenters, we are happy to offer three blocks of concurrent professional development sessions that include a range of topics, diversity, and French content. If you are undecided about which session to attend or you have a scheduling conflict with the date of the event, don't worry. One of the many advantages of hosting a virtual Summit is the ability to record sessions. All our Summit sessions will be recorded so you can view them later. Recordings will be available to registered attendees in early November and remain available until December 31, 2022.
Besides offering an outstanding line-up of presentation topics, this year's Summit will also include:
Keynote Peter Walsh
New POC 3D Virtual Expo
Gamification and prizes throughout the day
Social networking activities that include: Wine Tasting & Pairing and Sketching with Joyce Menyasz
And be sure to attend the Annual General Meeting being held Wednesday, October 19th from 5:00 pm – 7:00 pm EST.
We are confident you will come away from this Summit inspired and motivated to pursue your Purpose and Passion for Progress. We look forward to "seeing you there"!
Cost
NEW! Early Bird pricing
Members
Early Bird (on or before Aug 31): $125.00 + GST/HST
Regular (after Aug 31): $150.00 + GST/HST
Non-members
Early Bird (on or before Aug 31): $150.00 + GST/HST
Regular (after Aug 31): $175.00 + GST/HST
Refunds and Cancellations
Refunds for the Summit will be processed up to and including September 16, 2022, minus a $20 administrative fee + GST/HST. After September 16, 2022, no refunds will be provided for any reason. Please note that refunds will not be provided in the event you encounter technical difficulties. It is the responsibility of the registrant to ensure they meet the recommended technical requirements for viewing the Summit presentations, as outlined below.
Recommended Technical Requirements
Internet connection recommendations:
Download speed: 25Mbps or higher
Upload speed: 10Mbps or higher
Latency: less than 30ms (milliseconds)
You can test your device by going to this website:
speed.measurementlab.net
Tip: Plug into your router using a network cable or be as close to your router as possible for best connectivity if you are using WiFi.
Please ensure you have an audio output, such as speakers or a headset.
The following web browsers are supported: Chrome, Safari, Firefox, Edge. Please note that Internet Explorer is not supported.
REGISTRATION
Call for Sponsors, Exhibitors & Advertisers
Get Noticed by Your Target Market
The POC Virtual Summit is an outstanding opportunity for companies to connect with their target audience – professional organizers from across Canada, whose use and recommendation of a product is passed on to their clientele. By sponsoring and/or exhibiting at the Virtual Summit, you are reaching hundreds of professional organizers and potentially the thousands of Canadians they service. We continue to offer our sell-out Sponsor Spotlights and will launch our Virtual POC Expo this year!
Get complete details in our 2022 Sponsor, Exhibitor, and Advertising Opportunities Guide!